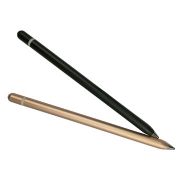 Active capacitive touch pen
Active capacitive touch pen for all the capacitive touch panel devices
Feature

-very fine writing point 2.2 mm

-accurately write

-rechargeable design,50mA safe charging current

-support key open function

-availabe to recharge when system working

-LED lighting indicator when being recharged.

Process

1.Capacitance touch pen is made of conductor materials with conductive properties, used to touch capacitive screen to complete the man-machine dialogue operation.

2.Capacitance touch pen is widely used for capacitive touch screen devices like mobile phone, computer and other electronic equipment.

3.Capacitance touch pen is an assist device,making use of conductor materials to imitate human body (usually a finger) to complete the man-machine dialogue.

4.It is a four-layer composite glass screen, the inner surface of the glass and the laminated layer are coated with a layer of ITO (i.e. coating conductive glass), the outermost layer is a thin protective layer of silica glass.

5.The current respectively comes from the electrodes at the four corners of the touch screen, the four electrodes current is proportional to the distance from finger to the four corners, the controller makes a precise calculation of the location of the touch point,based on the four current ratio; It is an integrated touch solution, can support 65 inch and above size touch screen.